24.03.2022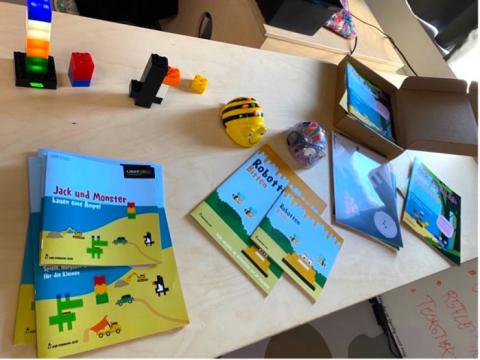 The Danish city of Odense is known worldwide as a location for innovation and development in the field of robotics. So it's no wonder that the project partners from the EU-funded project I AM NOT A ROBOT* came here.
This time, the Børneinstitution Holluf Pile - Tingkær invited all partner institutions* to the second Learning Activity from 28 February to 2 March 2022. From the Odense train station, we went to the Faculty of Education at Odense Universitet. The faculty was funded by the LEGO Foundation and houses the PlayLap.
Here, methods of Playful Learning are researched, materials are tested, the results are documented and then transferred into practice in kindergarten facilities. The representatives of the project partners meet Michael Hojbejerg (founder of GULDASTRONAUT) and try out the latest AI-based learning materials from his company.* With the cubelets, which compress robot technology into square building blocks, the participants build a racing car. After the meeting, it's time for a joint reflection: Do the methods we just learned about help for the educational toolboxes?
On the second day of the research trip, we go to the Agerhonen kindergarten of the host institution. The partners will have the opportunity to observe the methods used and watch the children play with the latest technological devices for early childhood education; including Osmo, Blue Bot, Bee Bot, Ball Maze and Light Star. Final discussion sessions and reflections at Phonix Conference Centre Odense will leave participants with the following questions:
What is actually our definition of Artificial Intelligence?
Do we want to focus only on robotics?
And are we open to explore every achievement of a new technology-based learning material?