15.12.2021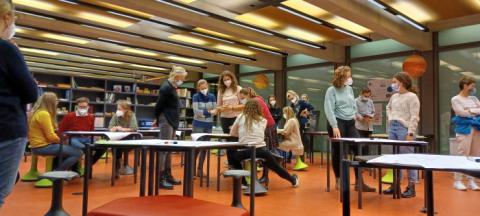 From 29 November to 1 December 2021, the first Learning Activity within the Erasmus+ funded project "I'm not a Robot: Working with artificial intelligence in early childhood education" took place. At the educational event, which took place in Bressanone, Italy, project partners from Italy (Free University of Bolzano), Lithuania (Vytautas Magnus University, Kaunas) and Denmark (Borneinstitution Holluf Pile-Tingkaer, Odense) had the opportunity to exchange ideas about the use of digital media in their everyday pedagogical work and to learn from good practice examples.
The project deals with the pedagogical challenges in early childhood education that come with the increasing use of artificial intelligence (AI) in social and family contexts. The aim of the project is to understand this influence and to derive pedagogical methods from it. Within the framework of the project, a toolbox with pedagogical principles for action as well as digital training for interested pedagogical professionals will be developed.
The Learning Activity programme included a visit to the MiniNOI science workshop, a discussion with students from the Free University of Bolzano in the seminar "Media Education" and the collection of ideas for filling the toolboxes. Johanna Debletz (Product Management Early Childhood Education), Susan Richter (Preschool Regenbogenhaus) and André Timm (Makerspace Klax School) participated as representatives of Klax.