22.09.2022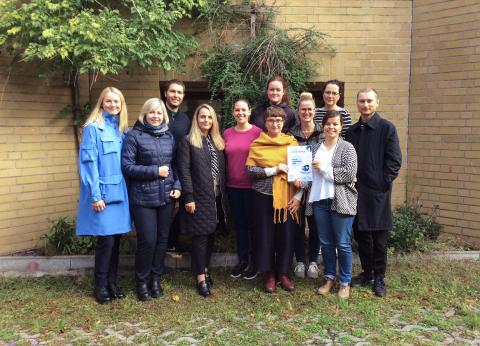 Herzlich willkommen in Berlin! Welcome to Berlin! Velkommen til Berlin! Sveiki atvykę į Berlyną! Benvenuti a Berlino!
From 19-21.09.2022 the fourth Learning Activity of the project "I'm not a Robot" took place in Berlin. Klax Berlin gGmbH as host welcomed 10 pedagogical professionals from day care centres of the project partners in the Klax Berufsakademie and in the Klax Kreativwerkstatt. The meeting at the academy gave the educational professionals from Denmark, Lithuania and Italy the opportunity to get to know the premises of the academy and the kindergarten as well as the concept of Klax pedagogy.
The focus of the Learning Activity was the cooperative exchange of 12 toolboxes that were developed by all project partners during the course of the project so far. During the Learning Activity, the representatives from the participating countries presented the developed toolboxes as tools for pedagogical work in the field of robotics and trained each other in their application.
The inclusion of the expertise of educators from different European day-care centres and their results from the test phase is a method: with their feedback, the perspective of professional practice flows into the research and development process. In this way, the professionals are researchers in practice and at the same time they form the target group of the future toolboxes. Based on the results of their testing, the toolboxes will be refined, adapted and finalised by the project partners of the Free University of Bozen/Bolzano (Italy) in January and February 2023, for finally beeing applied in each of the participating countries within the framework of individual further training.